* ALTMONT (Brett Spencer & Dorian David) : - "Draco, Draconis", published in association with Granada television, ed. My Sher. Altamont publishing, 1996 (251 pages ; 40 photos from Granada series.Holmesian novel.

* MILLER (Ron) : -"Mystery! a Celebration", ed. Bay Books, San Francisco, 1996 (304 pages)..
About the great American program produced by Jeremy Brett's second wife Joan Wilson – file about the Granada Sherlock Holmes Series
.

* COX (Michael) : "A Study in Celluloid", ed. Rupert Books, Cambridge, 1999 (235 pages, 21 photos).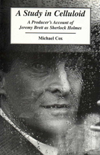 * PAUL (Jeremy) : - Scripts of the Granada series, ed. Ian Henry Publications, :
"The Speckled Band",
"The Naval Treaty",
"The Problem of Thor Bridge",
"The Musgrave Ritual",
"The Secret Of Sherlock Holmes" (script of the Jeremy Paul's play with Jeremy Brett and Edward Hardwicke ).

* COX (Michael), ROBINSON (Andrew), eds. : " Granada companion, number one--A Sherlock Holmes Album", London, Karizzma, 1987.
* DAVIES (David Stuart) : - "Fixed Point, the life and death of Sherlock Holmes", ed. Thumbprints, third ed., 1996. Holmesian play ; introduction by : Jeremy Brett & Edward Hardwicke ;some photos from the Granada series.

* SMITH (R. Dixon) : - "Jeremy Brett and David Burke : An Adventure in Canonical Fidelity", Rupert Books Monograph Series n°6, ed. Rupert Books, Cambridge, 1998 (40 pages).
* "The Baker Street File", a guide to the appearance and habits of Sherlock Holmes and Dr. Watson, specially prepared for the Granada television series The Adventures Of Sherlock Holmes, with an introduction and section notes by Michael Cox, Calabash Press, Ashcroft, British Columbia, 1997 (105 pages).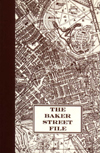 * HAINING (Peter) : - "The Television Sherlock Holmes", ed. Virgin books, London, First edition :1986; third revised edition : 1994.

* Génération Séries, n°18, été 1996 ; French magazine, contains a file about the Granada series Sherlock Holmes .