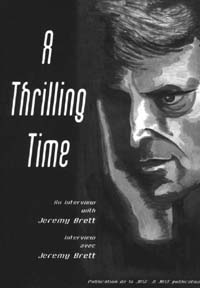 (see shop for more details).
This booklet is the bilingual transcription (in English and in French) of the wonderful interview of the British actor Jeremy Brett, realised in October 1991 by journalist Robert Aubry Davis on his Desert Island Discs program aired on WETA radio, Washington DC. The actor toured the USA to promote the Granada Sherlock Holmes television series, screened there on the PBS Mystery ! program. This interview have been restaured on audio CD and is added to the booklet.
In this revealing hour-long interview we discover much about Jeremy Brett the consummately professional actor as well as the man himself. For instance, he discusses the Stanislavski method of acting, or the art of becoming the character, the technique which he has used to portray Sherlock Holmes to perfection. However, we are also taken on an intimate journey not only through the actor's long and diverse career but also his private life where he speaks of his childhood, his late wife and many of his contemporaries, in particular his great friend and mentor, Sir Laurence Olivier. Most of all, Jeremy Brett shares with us his love of classical music, and especially opera, as we listen to some of the most superb artists of the 20th century during the interview.