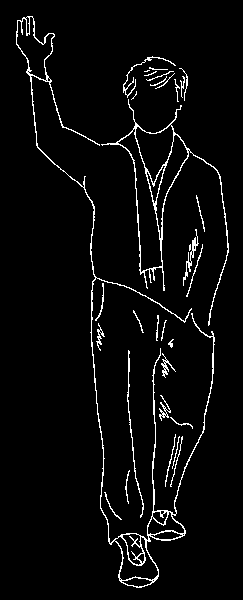 The
J

B

S

F
(Jeremy Brett Society of France)
has been
created in May 1997
,
in tribute to
British actor Jeremy Brett, died in September

1995

.
Managed by two volunteers this association is interested, since its creation, in the whole films, television and theatrical career of the actor.
We want to perpetuate his memory and his work by the research and the spread of documents (testimonies, clippings, interviews, books and photos), the realisation and the publication of articles, and by the realisation of exhibitions and conferences, on his career, but also on the actors who played with him.
So our centre of interest concerns the Anglo-Saxon theatre, television and cinema of the second part of the XXth century.
We wish to spread in France, and at international level (we count among our members English people, Americans, Australians, Japaneses, etc. …), our knowledge and our competence in this specialised field ; that for a general public (cinema enthusiasts and anglophiles) or of a more targeted public (theatre schools, schools, journalists, writers, museums, etc.).
This spread is envisaged under various forms:
To be... or not to be, that is the question.
management of our Web site and creation of data banks easily available for consultation by the public, lectures, specific service for professionals as writers, journalists or museums (for exhibitions)…
We want to assert ourselves as a documentation centre, in charge of the research and the filing of documents (photos, video cassettes and DVD, articles, magazines, books, posters, handbills and theatre programs, etc.) concerning Brett and the actors with whom he played, this to allow this spread.
The association will be able to realise its projects only thanks to the help of its voluntary members and the people who will have the will and the courage to support us but also thanks to the donations of documents and to the firms and individuals who would wish to finance our projects.
History
Sponsorship
JBSF 2002
Updated the 10-04-02
Back issues
Take part in our website
Publications